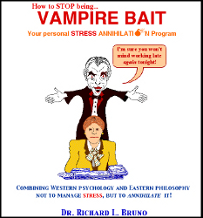 AREN'T YOU TIRED OF BEING TIRED, OVERWORKED and STRESSED OUT?

ISN'T IT TIME TO GET THE VAMPIRES OFF YOUR NECK?

Dr. Richard Bruno, the world's expert on STRESS and Post-Polio Sequelae, teaches you not merely to manage but actually to annihilate STRESS with his new e-book, How to STOP Being Vampire Bait: Your Personal Stress Annihilation Program.

Through clear explanations, common sense examples and simple homework assignments, this self-taught, four-week program will:
Explain what

STRESS

really is and why it's trying to KILL you.
Measure just how "Type A" and

STRESSED

out you are.
Explain why

STRESS

is a leading cause of PPS, chronic fatigue and chronic pain.
Describe the difference between External and Internal

STRESS

.
Help you to identify your Body's and Brain's

STRESS

Signs.
Help you to discover your personal

STRESS

Triggers and

STRESS

Patterns.
Help you to uncover the

STRESS

-Producing Vampires in your life.
Introduce you to Buddhism, the 2,500 year old philosophy that was the first "12 Step" program to Annihilate

STRESS

.
Present "The Ten Commandments" of

STRESS

Annihilation.
Explain how "divorcing" your relatives can be the key to annihilating

STRESS

.
---
---
How to STOP Being Vampire Bait: Your Personal Stress Annihilation Program was specially written for anyone with a disability or chronic illness, including:

POST-POLIO SEQUELAE;

CHRONIC FATIGUE SYNDROME & MYALGIC ENCEPHALOMYELITIS;

CHRONIC PAIN & FIBROMYALGIA;

CANCER, DIABETES, & HEART DISEASE;

CEREBRAL PALSY, RHEUMATOID ARTHRITIS & LUPUS;

MULTIPLE SCLEROSIS, SPINA BIFIDA & SPINAL CORD INJURY.

Whether you have a disability, a chronic illness, or are just suffering the slings and arrows of living in this incredibly STRESSFUL new millennium, How to STOP Being Vampire Bait, Your Personal Stress Annihilation Program, can help you to annihilate STRESS, to feel better and maybe even to live longer.


---
"The Orlando Sentinel" review of How to STOP being VAMPIRE BAIT...
Dr. Richard Bruno, Chairperson, International Post-Polio Task Force and Director, The Post-Polio Institute has taken the concept of stress reduction beyond just telling you how to do it. He has created a How to STOP being VAMPIRE BAIT that provides the opportunity to be an active participant in the process through homework exercises done over four weeks. It's surprising how much of a difference there is in your personal reaction to what you read when you have hands-on participation. VAMPIRE BAIT also gives you the opportunity to go back and reread what you write, allowing you to determine if you are making headway in changing your life to reduce the stressors that may be doing major damage to your body. Dr. Bruno discusses the differences between acute and chronic stress. Again you participate by writing, giving you more opportunity to learn about the things going on in your life that you can change -- and the things you may need to avoid -- to reduce stress.

VAMPIRE BAIT offers opportunities to help you discover triggers and patterns of stress. It also provides guidelines to help you change how you have lived, making it possible to live more comfortably: how to listen to your better judgment instead of the old messages of 'I should' that play in our heads; how to find alternatives to many of life's demands; how to ask 'why' you do what you do at work and at home; how to just say "No" to The Vampires who would use you up, and even how to handle the guilt that we put on ourselves for not "doing it all."

Finally VAMPIRE BAIT aids in teaching you to listen to your body. We get so many messages from our bodies, but most polio survivors (and others with disabilities and chronic illnesses) have been taught to ignore those messages. We can no longer do that and stay healthy.

But changing a lifetime of behaviors is difficult. Dr. Bruno outlines some basics that can be helpful in making the changes that can make a difference in your life!
---