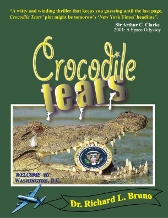 "A witty and winding thriller that keeps you guessing until the last page, Crocodile Tears' plot might be tomorrow's 'New York Times' headline."
Sir Arthur C. Clarke, 2001: A Space Odyssey
Lubricated by Lacrimal, President Freeman weeps his way across the country and starts winning primaries as he also secures cheap oil from other countries by creating the "Coalition of the Drilling." All's well for America's "Commander-in-(Handker) Chief" until Lacrimal's unexpected effects alter the primaries' outcome and reveal dark motivations for the drug's use: the removal of the President and the execution of Lacrimal's inventor.

So, grab some Kleenex and climb aboard Air Force One for a twisting and tearful, funny and fearful ride through pill-popping presidential politics that would be unbelievable if only our recent experience with Washington politicians didn't make it not just possible, but probable.
---
---
PRAISE for Crocodile Tears
"Thoroughly delightful. The pace never lets up!"
Charlene Baldridge
"San Diego News"
"A smart blend of satire and science fiction that, frighteningly, rings all too true!"
E. F. Watkin
Author,BLACK FLOWERS
"Dr. Bruno uses his wicked sense of humour and political experience to spin a tale of intrigue that leaves you in suspense until the very end."
Lydia Neilson, MSM
"Kudos for Crocodile Tears! It's hilarious, bitingly satirical and speaks profoundly about what could happen if the worlds of modern medication and politics collide, a dangerous duo to be sure."
Dr. Thomas Donohue
"Fascinating and frightening, but fun! Is Crocodile Tears science, fiction, or both?"
Dr. Barbara Oakley
Author,EVIL GENES

---